DH Series Phenolic Honeycomb
DS Series Steel Stiffened (Epoxy or Internal Facewelded Options)
DP Series Doors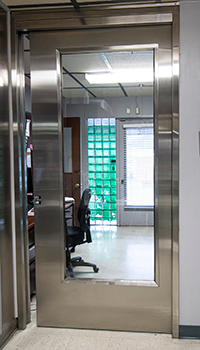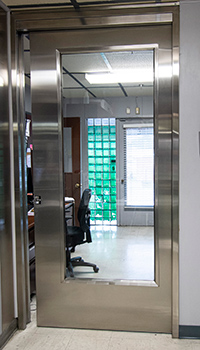 DP Series doors are insulated and sound deadened by a permanently laminated (bonded) solid slab of expanded polystyrene foam core on the inside of each face skin.
The complete unit is closed with 14-gauge steel, perimeter channels, spot-welded at 8″ on center. Doors have square edges with exposed stitch welded full height hairline seams. (Optional fully seam welded vertical, or 3 or 4 sided box seam welded.)
We mortise and reinforce our doors with 7-gauge hinge reinforcements. Lock reinforcements are 16-gauge box-type.
Closer reinforcements are 12-gauge when required. We provide other hardware reinforcements as required.
National DP Series doors are thoroughly cleaned and finished as standard, and are crated for damage free delivery.
Door Specifications:
DP Series Doors are full flush design as manufactured by National Custom Hollow Metal and designated as:
DP-416—1-3/4″ thick, 16-gauge steel
DP-414—1-3/4″ thick, 14-gauge steel
DP-412—1-3/4″ thick, 12-gauge steel
(Optional Door Thickness Available, Ex. 2″ 2-1/4″)
DP Series Doors conform to:
NAAMM-HMMA Commercial Standards
Federal Specifications
Features:

Stainless glass kits
7-gauge thick hinge reinforcing plate
16-gauge lock reinforcing
Polystyrene core
Construction:
Stainless hollow metal doors are constructed with face sheets of 16, 14, or 12 gauge type 304 or 316 in No.3, 4 or 2b mill finish stainless steel. Doors have 14ga stainless steel vertical reinforcing channels running the full height of door on both hinge and lock stiles. The top and bottom of the door is reinforced with a continuous 16 or 14 gauge stainless steel channel. Both hinge and lock edges are fully welded. The seam welded edges and all reinforcement welds are ground and polished to maintain a smooth finish. NCHM stainless steel doors are available in standard sizes as well as custom sizes up to 4'10¼" width and 12'0″ height. U.L. and Warnock Hersey label doors with 20 minute 3/4 hour, 1-1/2 hour and 3 hour rating are available with honeycomb cores, (DH Series) up to a maximum size of 4'0″ width 8'0″ height single door or 6'8″ width 8'0″ height pair of doors.
Reinforcement:
With 3D SolidWorks CAD and CNC manufactured accuracy, doors are mortised and reinforced for hardware. Mortised hardware and reinforcements are drilled and tapped at the factory. Reinforcements for surface applied hardware are drilled and tapped in the field by the contractor. All reinforcing components shall be fabricated from stainless steel.
Cores:
Polystyrene, honeycomb and vertically stiffened cores are available. Polystyrene cores are laminated to the inside face sheets to fill the inside of the door. Labeled doors have honeycomb or polystyrene cores permanently bonded to the inside face sheets. Vertically stiffened doors are constructed with a secondary face-sheet spot welded with the stiffeners and the face sheets and approved for hurricane conditions.
Rust Prohibitive Door Solution:
NCHM has the ideal solution when doors are going to be exposed to tough environments including highly corrosive elements. (Ex: Coastal Regions, garden sheds, etc) NCHM has a Rust Prohibitive Door made from stainless steel. It is an alternative to a standard galvanneal door and less expensive than a molded door.